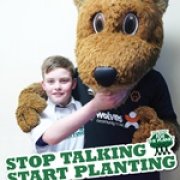 October 24, 2012
Plant-for-the-Planet
The wolf who planted trees
There was a very special guest at the already second Academy in Bilston, near Wolverhampton. But let's start from the beginning and don't spoil the surprise. The Climate Justice Ambassadors Arya, Rajpinder and Gurlyn, together with their teachers Ms Buckland and Mrs Somerfield had invited for an Academy at Bilston CofE Primary School. All of them had participated in the Academy at Holy Trinity Primary School last spring and had held a wonderful speech for the closing ceremony.
Also today they started with an impressive speech to inform the "Newbies" about the climate crises. But that's not enough: mere negative talk doesn't get us anywhere, if we can't give positive ideas to solve the problems. And of course, they could do that: they talked about their and other Climate Justice Ambassadors' ideas from the Plant-for-the-Planet network.
After the usual World Game and the lunch break the group went out to plant trees. For this occasion, they received help from a prominent supporter: Wolfie, the mascot of the big football club Wolverhampton Wanderers helped to get the 70 trees into the ground. A picture for our campaign "Stop Talking. Start Planting." was also taken.
And so the day passed by quicker than some people wished. For the closing ceremony the participants presented their ideas for the future, before they were officially declared Climate Justice Ambassadors.
Plant-for-the-Planet says thank you to all participants, to our partner the Woodland Trust, to Wolfie and of course to Bilston CofE Primary School for this wonderful day.
---
This article is over a year old and may not reflect latest facts and figures. If you have any questions, please contact media@plant-for-the-planet.org
---
---