February 17, 2022
Chiagozie Udeh
Ferncliffe: "Planting indigenous trees in the places they belong" in South Africa.
In casual series, we present you Resoration Organisations which are present on the Plant-for-the-Planet.org platform.
The journey to the restoration of our forests and degraded ecosystems come in many folds. For some they are long into the journey; for others, they are only getting started. But it takes extra motivation and strength to start this journey in the middle of the current pandemic.
This is exactly what Connor Cullinan and Janine Stephen, are doing with "Ferncliffe forest wilding," a South African NGO they launched six months ago, so new that they still do a bit of everything, from digging holes for trees, to tax compliance. They took us through their journey so far and goals especially on restoring indigenous species, protecting the ecosystems, and creating green jobs for young people all in Ferncliffe – a mistbelt forest in KwaZulu-Natal, South Africa.
With the idea to give everybody a better understanding, we share here some edited excerpts from the interview.
Restoring and rewilding endangered mistbelt forest
We aim to restore and rewild a remnant of endangered mistbelt forest on the edge of a city called Pietermaritzburg, South Africa. There is this strip of beautiful forest along a ridge, where many special birds, animals and insects live. But it's severely threatened by invasive plants from other countries. Some of the invasive species are very beautiful (they were brought here for gardens); some were useful (for timber). But they outcompete the slower-growing indigenous species, slowly degrading the ecosystem. They change the water table, as many use so much more water. The creepers strangle or pull down mature trees. And left to themselves, species like Mauritius thorn (Caesalpinia decapetala) have blanketed entire ravines. This is obviously bad news for the creatures that rely on indigenous species for their survival. So: for our restoration and planting programme, we simply have to go in and clear some areas. Where we can, however, we like to clear the invasive trees slowly, and leave some shade to plant the young indigenous forest trees underneath. They need these canopies for protection: the summers here are fierce and getting fiercer! Then we can either come back and ringbark the invasive trees, or else the indigenous trees can overtake them in time, given the advantage. This means less disturbance to soil and the general ecosystem, fewer invasive plants germinating, more chance of other indigenous tree recruitment, and, we hope, a quicker recovery. We also try and plant in appropriate areas, and will leave other places alone for nature to lead the way (potential wetlands, for example).
We also care for mature trees, uncovering them when in danger of being swamped by invasive creepers or bamboo. And we look after our young trees, returning to check on them and uncover them, water a little at first, and protect them from browsers. We want our survival rate to be as high as possible.
As the vegetation recovers, we hope that we will see plant species that have vanished from ravines and other areas return, bringing with them the very special birds and insects and animals of this biome. For example, the most powerful eagle in Africa, the African Crowned Eagle, hunts monkeys and small mammals called Rock Hyrax and Blue Duiker. As these species disappeared or became less common at Ferncliffe (due to disease but also potentially habitat changes), the breeding eagles moved further away.
Our approach is slow and steady change in one special place. Then we can look at corridors to connect to other areas.
New and driving change
Well, we're super new, but we've had the most amazing reception from locals of all kinds. People seem to be so eager to do something to help the planet and this beautiful place that is part of their city. And we've already planted 70 trees! One of the things we are really excited about is linking up with other NGOs and mountain biking clubs to have the area legally protected. It is a municipal nature reserve, but has never been gazetted. This will help protect it from developers and other dangers, which range from poaching to fires. Moving cities and changing jobs to start a new NGO in the middle of an epidemic? Let's say it's been interesting! South Africans have been living through very tough economic times. It makes our small contribution to job creation extra important to us.
Discovering Plant-for-the-Planet
We found it online when researching tree-planting initiatives. For very small and hyper-local organisations like ours, reaching out to the world is hard. But we have to, in order to be sustainable. The climate crisis is a global problem, and it matters to us to be part of a global community trying to change things. We all need to be bigger than individual parts, and rise above our own interests. We have to work everywhere and anywhere we can. That Plant-for-the-Planet helps connect those who can give, with those doing the work is just amazing. And we appreciate that they checked on our credentials before we were loaded online, so donors know there's been some due diligence. Again, that helps people know that although we're new and still small, we're determined to do things properly Also: the TreeMapper app is pretty cool.
A journey from donation to planting and protecting the trees
It's fairly simple. We clear as funds are donated to us via our website (we have a "pay-a-day's wage" or ordinary donation options). That happens all year. And we plant in the wet season, around September to around mid-April / May, according to donations made but also planting those trees that need to be planted out. We keep careful records of the numbers of trees donated, from all channels, so that we're ready to go in the wet season. For trees that are donated via individuals on our own platform, we sometimes try and put them somewhere that will be meaningful to that person (near another tree they've planted, for example). We plant about 12 species, as we want to promote diversity, and we choose which spot would be best for each individual. Some can cope with more sun, others only like deep forest. We get to know the planting area as we clear, you see. Before planting, we tag the tree with a number and take its measurements. As we plant, we construct a barricade made of invasive bamboo to keep the delicious youngsters from being eaten too badly by the local Bushbuck!
Addressing South Africa's youth unemployment
South Africa has horrible youth unemployment rates – the latest statistics show two out of three under-35s don't have a job. It's untenable.
We try and create work opportunities for "Forest Guardians" and "Weeders Extraordinaire" to help us with the clearing and planting work, but also to learn a bit of citizen science and more about indigenous plants. This is ongoing (but new), and we hope to be able to expand as we grow. We've also just teamed up with a job creation programme that gave six months of work to a team of 10 young unemployed people, 60% of whom are women. They're planting trees at Ferncliffe right now (although we have to share them with other projects)!
And we'll start a volunteer day – maybe this month will be the month.
Independent nurseries and community-sourced seedlings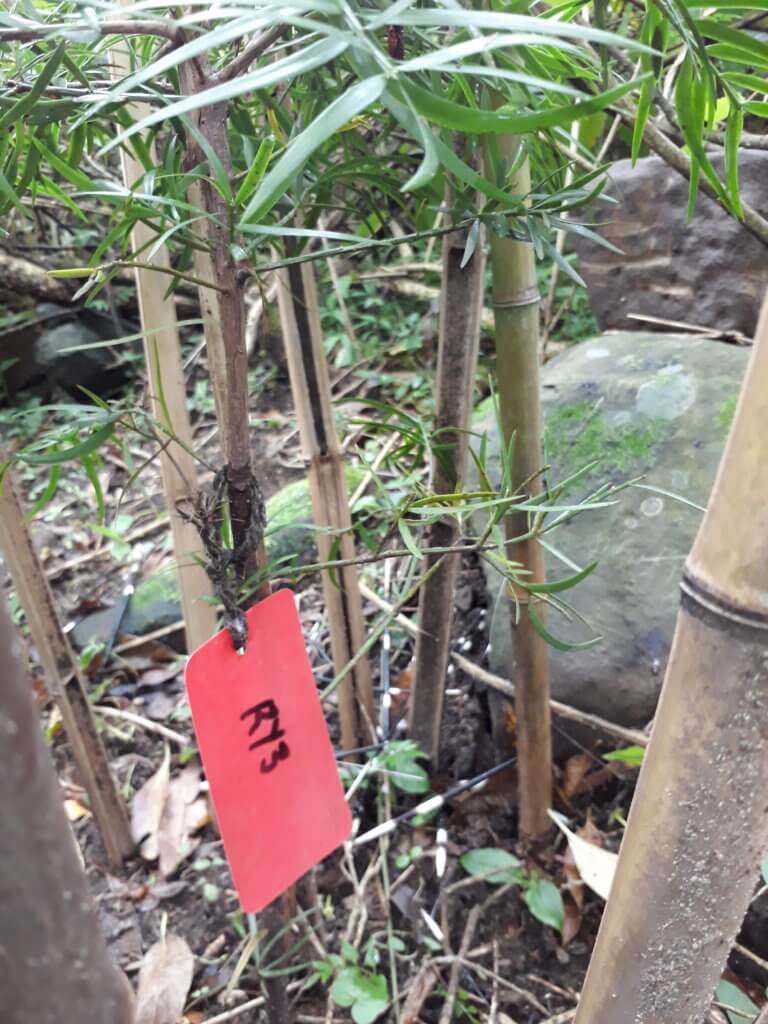 To start up, we used two local independent nurseries, one linked to the local Botanical Gardens. The owner of this nursery goes to Ferncliffe to collect seed, so we know the trees come from the right place! This matters to many, to try and grow trees from seed gathered in the area in case of special genetic and adaptive properties. And to reduce the chance of introducing disease. The general rule for conservation groups in KwaZulu-Natal, where we're working, seems to be to only plant species that grow naturally within a 50km radius. But of course, some species might have disappeared, in which case one can think about bringing them in. Also, Ferncliffe has totally different habitat to that found 50km south, for example! So, we're only planting trees we've seen growing in the forest or ravine areas, such as the lovely groves of Lemonwoods that a forest trail has been named after. We also refer to books and mistbelt species lists gathered by the municipality, local academics and expert groups or individuals.
We're also sourcing trees for the first time this month from another local organisation, Wildlands, that supports "treepreneurs": Community members (often women) who are supplied with seed and training, and who grow the trees themselves and sell them back to Wildlands or exchange them for services.
We're also collecting seed and seedlings from Ferncliffe, and have started our own nursery dedicated to the project.
Trillion Tree Campaign and enjoying TreeMapper App
It's wonderful. A platform that connects donors and organisations at this crucial point in time? It's vital. We just joined the platform, and we're yet to experience a first payout, so can't comment on the donations side, but we're enjoying the Treemapper. The young workers love learning it, and relate to the visual information. Our only frustration is not always being able to get an exact GPS location. We are usually only able to pinpoint single trees within a 20m area, but that still works for us. Being able to edit the entries in the app afterwards would be very useful. (Update: TreeMapper v1.0.8 allows users to edit entries after registering).
Overall: If the Trillion Tree Campaign can inspire donors to support and finance more projects around the world, the happier we'll be!
Message for those restoring and protecting forests in different parts of the world
Just keep planting indigenous trees in the places they belong. It's that simple. No monocultures, no covering grasslands or wetlands. And leave some places totally alone. Allow for some chaos! It's where things get interesting, in nature and in society.
Visit Ferncliffe forest wilding to learn more.
---
---
---